From the Shelf
Maester Martin's Milestones
The past week was another big week for a publishing phenomenon that has taken a few
Shelf Awareness
editors--and millions of others--on an epic reading journey.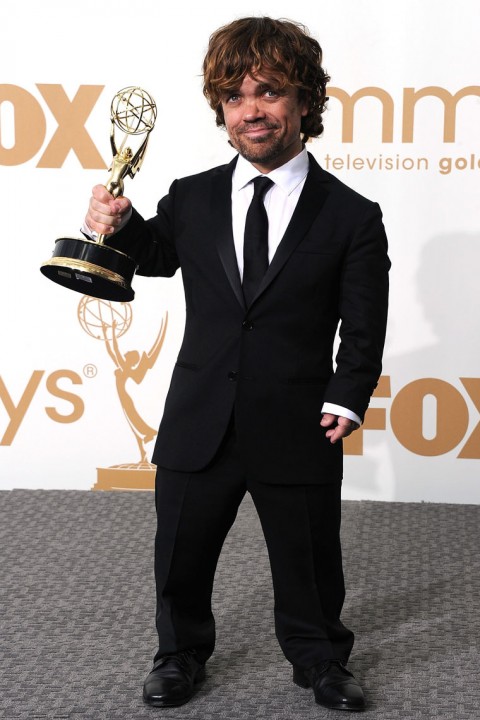 First, at the Emmys, Peter Dinklage won best supporting actor in a drama series for his portrayal of Tyrion Lannister in HBO's series based on
A Game of Thrones
, the first volume of George R.R. Martin's A Song of Ice and Fire saga. Dinklage's Tyrion, aka the Imp and the Dwarf, is one of the best-read characters in the books, saying at one point, "A mind needs books as a sword needs a whetstone, if it is to keep its edge." (Tyrion is also delightfully droll, sharp-eyed, humorous, fatalistic and hedonistic.)
Then last week publisher Bantam announced that
A Game of Thrones
has sold one million copies in the past six months, roughly since the HBO series began and drew in many new fans. Next, Amazon said that Martin is the 11th author to sell a million e-books in the Kindle Store. And
A Dance of Dragons
, the fifth volume in the series, released in July after a long wait, continues to burn up the bestseller lists. Altogether the series has 11.8 million copies in book, e-book and audio versions in print.
Based loosely on the War of the Roses, A Song of Ice and Fire is a sprawling tale set in a world like medieval Europe and Asia and features complex flesh-and-blood characters, few of whom are pure good or evil. The material is simultaneously earthy and mystical. And Martin is an expert in moving the story along--with twists that shock the reader.
One college-age friend called A Song of Ice and Fire "medieval porn." Another described Martin as "America's Tolkien." Again and again, we've encountered fans who say with a bit of surprise that they
never
read fantasy but somehow have gotten hooked on Martin's universe.
This phenomenon will only get bigger--the
second season of the HBO series is filming
and there are at least two more volumes to look forward to. We dare you to join the legions and drink some of Martin's literary dreamwine.
Happy reading! --
John Mutter
..
Just finished watching season one on Netflix can't wait for the new season. In the mean time going to check out the books, cause you know they are always better.